Step 1:
Spinocare NST brings most of all solutions in step 1.
Eliminates/ reduces pressure on nerve through decompression
Negative pressure is created by gently stretching & releasing the vertebrates
Negative pressure helps herniated Disc to get back to its position
This also helps the disc to draws more oxygen, water & nutrients back.
The disc rehydration helps in the increase of disc height
Step 2:
The range of motion is improved through Computer aided Spinocare mobilization as well as manual techniques.
The spinal muscles are relaxed and spasms released
The core muscle of spine and pelvic floor are strengthened through mobilization using Spinocare.
Step 3:
The damaged soft tissues in muscles, ligaments and tendons are repaired through fibroblast using advanced modern technology.
The cell regeneration is stimulated using cell repair & regeneration stimulation technology
In the process, degeneration of vertebra bones is treated through like Cell Repair & Regeneration Therapy. This helps in osteoporosis condition.
Step 4:
The 3-dimensional bilateral correction helps in realignment of vertebrates
Further manual therapies are applied for improving the muscle wellness and spinal alignment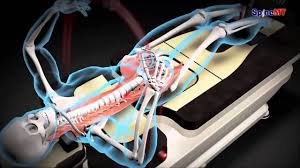 Step 5:
AceFit EMS training, regular calisthenic exercises, yoga therapies are applied (as required) to further strengthen the core muscles and for postural corrections
The nutritional imbalances, metabolic corrections, weight management are achieved through life style management and supplements. Active lifestyle with regular exercises plays a pivotal role in this step.
Step 6:
Regular exercises and ergonomics training are given as a part of recurrence management program for long lasting results