We first understand the person and cause of the disease before start treating the pain. Our Rehab experts and/or physicians listens to you carefully and diagnose you. the treatment programs are then designed that are tailor made for you. our programs shall be designed to offer 360° solutions that help to reverse the condition. we don't just focus to treat your pain symptom.
Detailed Assessment & Understanding
The one of its kind Digital Musculography and Digital Spinography tests are done to understand your spine and muscle health. Weak muscle is often the root cause of 80% of back pain cases which MRI and X-Ray couldn't diagnose. Other physical assessments and Radiology & Pathology tests were done if needed. We first focus on understanding the problem and then our Spine Rehab Xperts and Physicians design your non-surgical treatment programs.
OUR 360° TREATMENT APPROACH:
We follow integrated approach while treating you. We integrate modern non-surgical technologies with manual & electro physiotherapy rehabilitation. In some cases, we integrate modern medical science and/or Indian Medicine (Ayurveda, Siddha, Yoga therapy) along with our non-invasive treatment approach. Parallel to the treatments, exercise programs are structured that strengthens your muscles and further helps preventing/ slowing down degeneration process.
If your health condition requires immediate surgery, we shall then refer you to our panel of Spine Surgeons.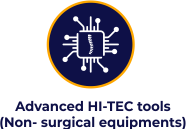 State-of-the-art Hi Tech Non-Surgical equipments to reduce/ eliminate the nerve compression, disc rehydration, improved mobilization, alignment correction, muscle repair& regeneration, Strengthening of core muscles, bone health etc.
Advanced technologies can also help in correcting the mal-alignments and functional deformities like scoliosis, kyphosis and lordosis.  With novel technologies like cell repair and Regeneration therapy, we can improve the bone health, repair soft-tissue damages and slow-down degeneration process.  They also help in improving the muscle strength and improve range of motion.
IFT, TENS, Muscle Stimulator, Ultrasound can significantly help in inflammation reduction, blood supply restoration, pain relief, muscle spasm reduction etc.
Spinal manipulation, McKenzie method, Neuro Dynamics, Neuro Kinetic Control, Myofascial Release, Muscle Energy Technique etc shall help in restoring spinal health to a greater extent and improve muscle strength and range of motion.
Ergonomics plays a crucial role in restoring alignment of the spine and to maintain the spinal and paraspinal muscular strength.
We use the most advanced EEMS training methods to strengthen the spinal muscles apart from calisthenic training, pilates, yogasana etc. Combating pot belly obesity is other key focus of these training regimens. Unless postures are corrected, weight is controlled and core muscles are strengthened, no long-term solutions could be arrived from any kind of treatment across the globe.
Diet and nutrition balancing play a greater role in the health of bones, joints, discs and muscles. We pay equal importance in your vitamins and mineral levels to help achieving spinal wellness. Lifestyle corrections are essential for efficient recurrence management.
Our Consultants and Spine Rehab Xperts shall schedule regular follow-up to ensure that your recovery progresses as planned and sustains over the period. We care for your health than anything else. Our integrated approach offers you a truly 360° wellness solution to your spine.
India's one of the technologically superios spinal speciality clinic for treating back & neck pain wothout surgery.